September 2011
Af Jonas Abkjær Andersen
Dette indlæg er et par år gammelt. Læs de nyeste indlæg her.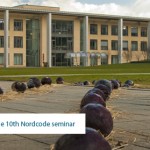 I held a presentation about "Designing and Understanding Material and Immaterial Cultural Heritage and the Outreach at Museums. "Iron and Willow" – A Case Study at the Viking Ship Museum in Roskilde" at the 10th NordCode Seminar.
How do museums use material and immaterial cultural heritage in outreach, education, and exhibition? How can this be seen in connection with design and communication? These were the points addressed in my presentation at the annual seminar in the Nordic network for research on communicative product design – NordCode.
(Photo: © Jonas Abkjær Andersen)
See: